Newborn and Baby Photographer
Newborn photographer, Jodie Otte, is an on location professional photographer specializing in Baby Photography in and around Maryland,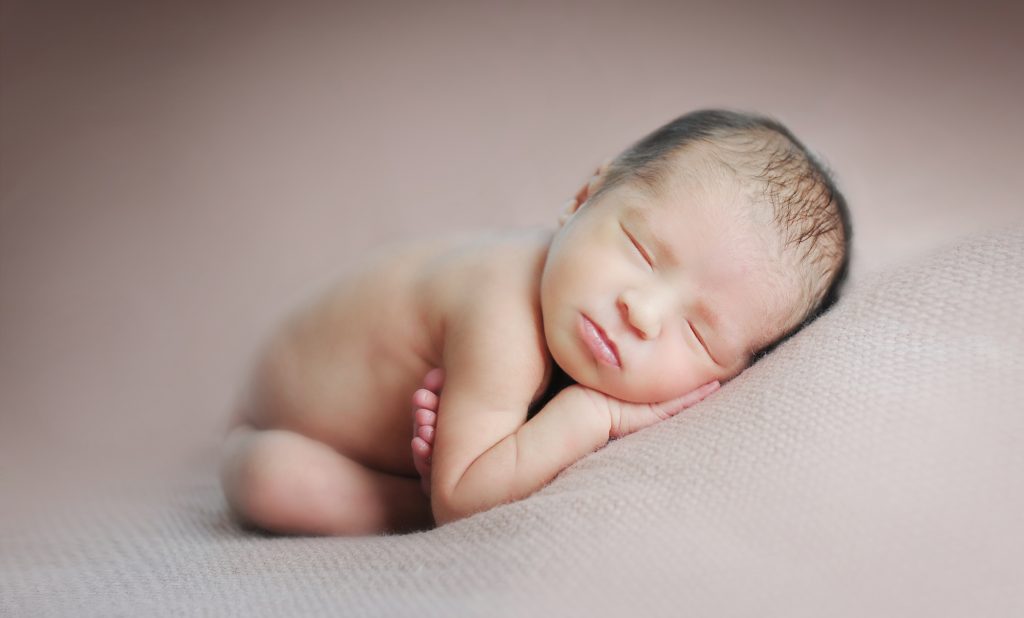 Jodie uses techniques that she has perfected over the course of 15 years with both natural light and studio light to create beautiful portraits of newborns as well as babies of all ages. As the original newborn photographer of the Greater Baltimore area, and she was sought out to teach her techniques across the world.
NEWBORN & BABY PORTRAIT SESSION DETAILS
Your photo session will take place on location in your home. Some Notes and FAQs: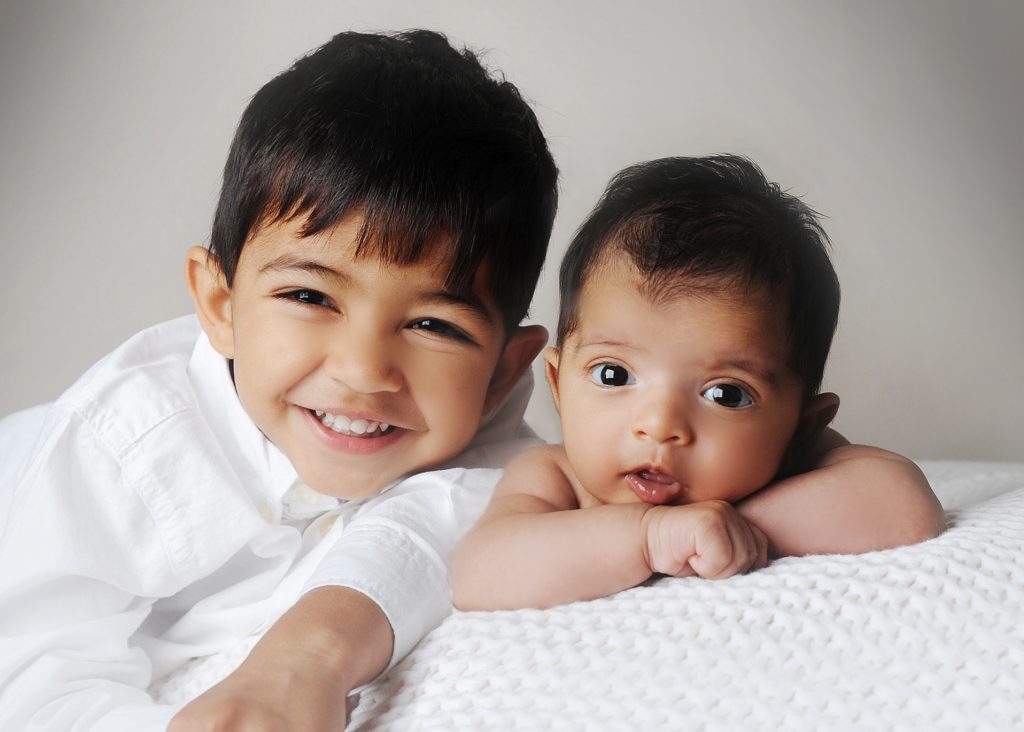 Babies (and older siblings) do better in your home! When you have to pack baby up, she will sleep in the car on the way to the studio, and then you must wake her up and frustrate her to take off her clothing for the pictures. Once she's awake, she is not going to curl and sleep again easily. It is best to have the photographer arrive at your home and set up while you feed and relax with baby until it's time to shoot. These little ones may be new, but they are already used to the smells and sounds of home. You will have a much more content baby this way. Making a child sit and wait for two hours while their little baby brother or sister is being photographed is quite torturous to them. During the newborn session in your home, older siblings can play, have a snack, watch a movie, or do whatever they wish until we are ready for them. They are much happier this way, and mom and dad are much less stressed.
---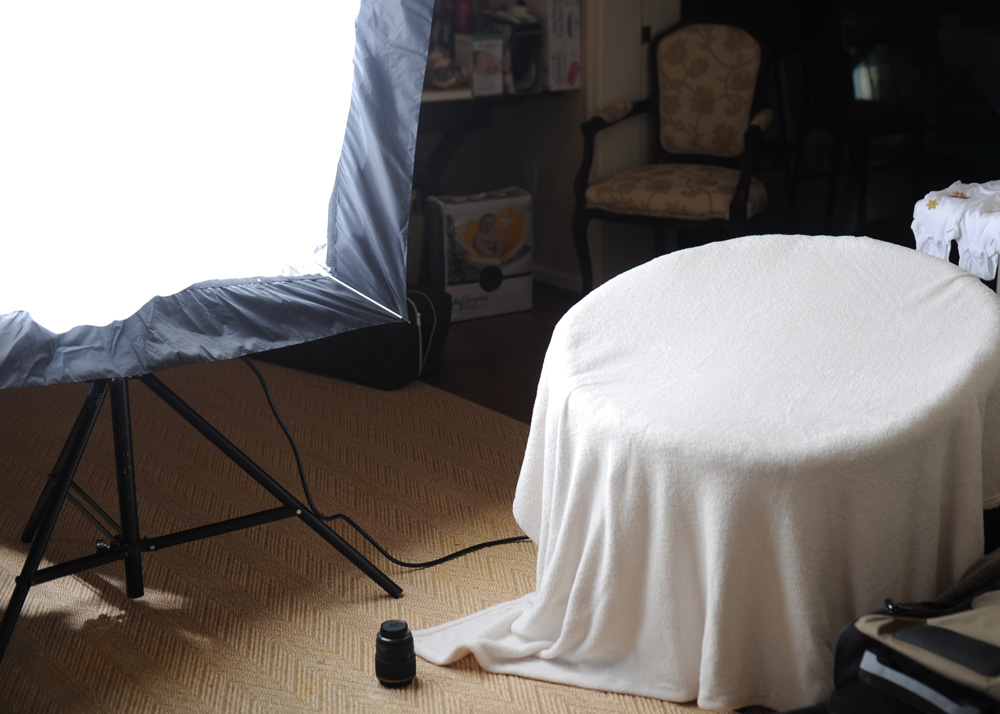 But I want images like on your website. They were shot in studio, right? No. Any image that you think was photographed in studio on the website was photographed most likely in someone's home. Professional studio lighting is brought along and used as needed to create images that look like they were photographed in a studio. There is nothing better as an artist that can find or create the best light that will result in the best images.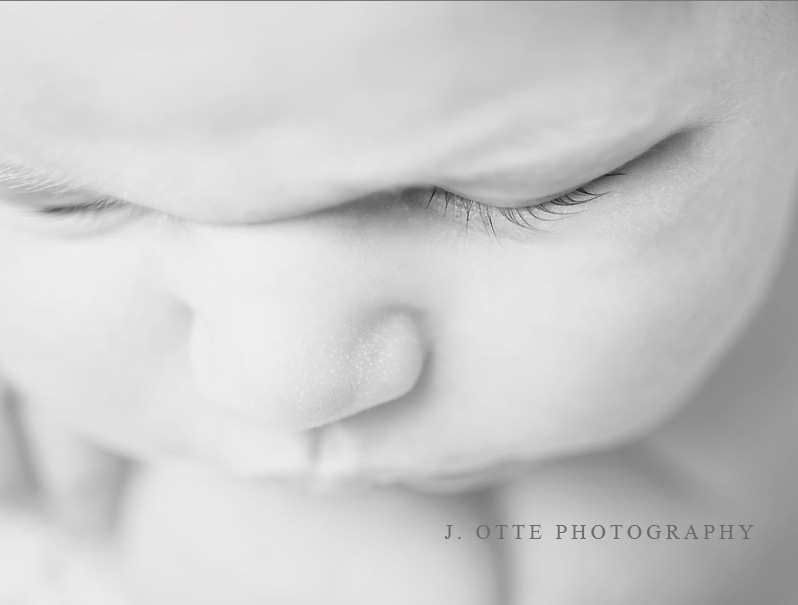 Do I have enough room in my home? You do. Jodie has photographed entire sessions in a foyer, in a hallway, in a bedroom, in a kitchen, and even in a tiny hotel room…. If you have or can clear a 6 foot by 6 foot area, she can create images that look exactly like they came out of one of her previous commercial studios. A professional can accomplish professional images anywhere.
Notice above – this is the most basic newborn setup to create gorgeous natural images of your newborn. We would share more, but the secrets to these amazing images are carefully guarded in order to allow for a one-of-a-kind experience with each newborn photo session.
---
PROPS
If there is something that is special to you that you wish to have your newborn photographed with, please mention it. Something special absolutely makes a unique photo and has meaning to you; however, heavy prop use can date an image. A bow on the head, baby wrapped, in a basket with fluff, on a hardwood floor may look cute now, but 10 years from now, it will look very outdated. It is best to focus on newborn or with parents or siblings for most of the session, and add a prop or two by request. This will allow every image to be classic and timeless and loved every time you look at it for years to come.
Jodie arrives with textured blankets and backdrops, lighting and camera equipment, some simple baby wraps, and a wooden bucket/box/crate in case a simple classic prop is needed for a specific setup. She has photographed NFL player babies with their footballs, firefighters with their baby inside of their helmet, and many others.
Important Note: This is an image composite. This baby was never left alone on this saddle. This image is a combination of three separate images that are merged into one using PhotoShop as a tool. Safety is the most important consideration during a newborn photo session. If you are ever uncomfortable with anything that is done during a photo session with any photographer, please speak up. You as the parent should override anything that you are uncomfortable with.
---
NEWBORN POSING
Every baby is an individual. Not all babies will move the same way or hold a pose the same way. No pose should ever be guaranteed by a photographer or forced. The photographer should pay close attention to each individual baby and note how they move and what keeps baby most comfortable.
Natural posing is the most beautiful. Occasionally a baby will move into a position ideal for an interesting or fun pose (also with use of PhotoShop), but why have every baby look alike in the same pose down to finger and toe placement? Your baby is an individual and will share his/her personality in her posing.
---
WHAT TO WEAR
Babies are so tiny that they can easily become lost in an image. If you want images of you and baby cuddled up, either go skin-to-skin or wear simple solid colored clothing that allows the focus to remain on baby and you. Newborns will be lost in bold patterns.
---
BOOKING YOUR NEWBORN PHOTO SESSION
If you are pregnant and looking to book a session, please contact her as soon as possible in order to prebook. If you are a little late in booking and have already had your baby, no worries. Please email jodieotte@gmail.com and she will get you in on the schedule. Newborn clients are top priority and she will do her best to accommodate.
NEWBORN GALLERY
Don't forget to browse the newborn gallery and the newborn blog to see photo session images.