Newborn Photography by Maryland photographer, Jodie Otte.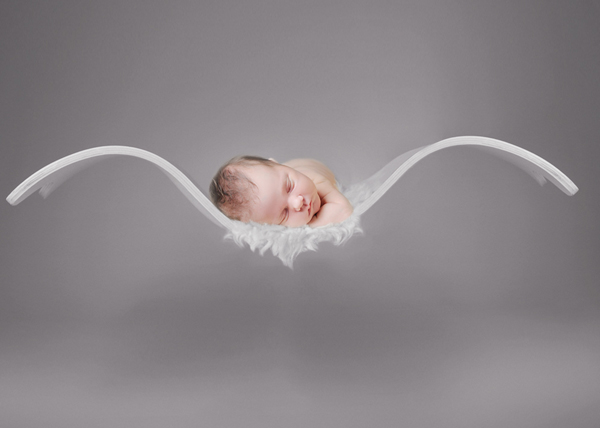 Newborn photography is best accomplished when baby is between 5 days and 14 days old to achieve the beautiful and peaceful curled images that are on this page. If you are running late setting up an appointment, do not worry; with over 15 years of experience, Jodie can still curl babies up to four weeks old.
Is your little one older than this? Experienced professional photographers can work with babies of any age and create beautiful art. Contact Now to set up an appointment to capture your baby's sweetness right now.
---
Newborn Photography sessions are done in your home. Refer to Newborn Session Details for more information. Newborn photography sessions should never be frustrating and should not take all day. One to two hours is sufficient to get beautiful images. While occasionally the session time may go a little over two hours especially if more family members are involved, longer sessions do not result in better images. Professional photographers should have their techniques and procedures stream-lined to avoid frustrating little ones and parents.
When Jodie arrives, she will evaluate your natural light and decide whether she will bring in her studio lighting. Her studio lighting is very unique as she has developed techniques to mimic natural window light. She has perfected and taught these techniques worldwide which is why all of her images have a cohesive or consistent appearance. It is very difficult to see a difference between her natural and artificial lighting.
Only a small space is needed to set up everything for the newborn photography session. It is a great idea to feed your baby just prior to her arrival or feed as soon as she arrives. She will set up and ask about which images are priority for you. This helps her decide how to begin. Jodie works with your baby's natural and comfortable positions. If you have a specific pose that is important to you, please let her know; however, keep in mind, not all babies will go into certain poses. This is actually a good thing because she will bring out what makes your newborn unique by observing natural movements. Her goal is to get sleeping curled images, closeups of baby toes, baby fingers, etc., awake images, and possibly a newborn sleep smile.
---
If you have chosen a Newborn Photography Signature Session and wish to be photographed as well, it is recommended to wear plain neutral clothing or do skin-to-skin; these images are photographed from waist up. This allows for the viewer of the portraits to focus on the beauty of your tiny baby. Too much distracting patterns or photographs taken from too far away will cause baby to become lost in the photograph.
---
Newborn Photography Props are not typically supplied. There is a reason for this. Jodie wishes to capture your baby in a way that is timeless and classic. There are trends in the photography industry right now where babies are wrapped up with a hat in a basket full of several different kinds of fluff and material on top of a floor that has texture. Babies will get lost in this photographs; not to mention, 10 years from now, those trends will be outdated. If you remember your school pictures, you can imagine how dated the images will look. Classic imagery never goes out of style. If you truly wish to use props in your photos, that is okay too. Not every photo in your session will contain props and the focus can still be on your baby by keeping movement and textures in the images to a minimal. This will maintain a classic feel.
The wood floors! Yes, we must talk about the wood floors. Jodie made these wood floors by hand. She has photographed them in many ways. If you wish to have these wood floors (or even wooden bowls or baskets) in your images with props, please let her know so she can plan her shot angles correctly. She will photograph a certain way to slide the floors into the images later in PhotoShop. This is another of her techniques that she is teaching photographers around the world. Her retouching techniques for PhotoShop composites are masterful.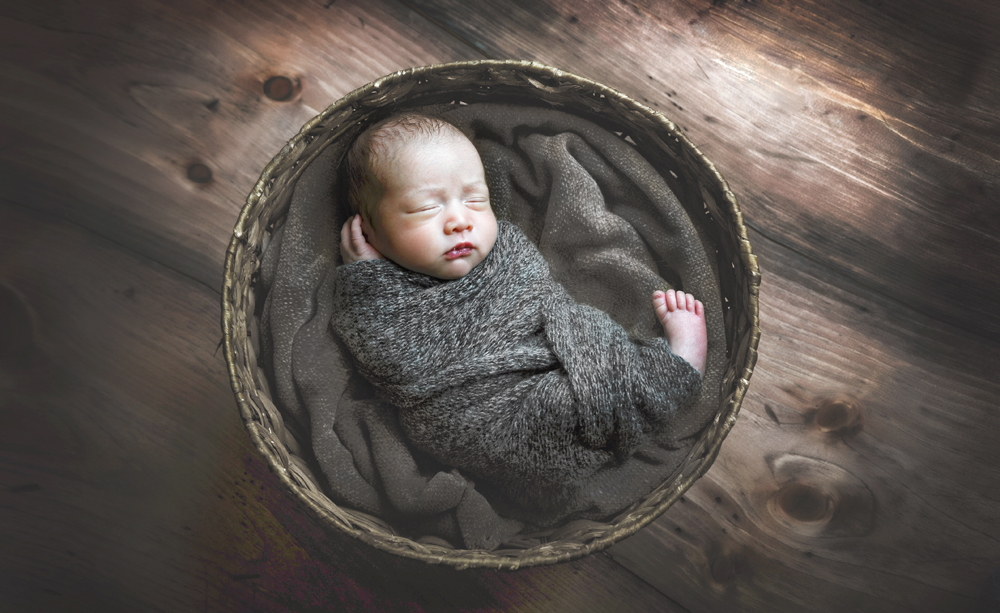 Newborn Photography On Location
There is something very special about photographing newborns on location. Besides the fact that they do so much better in your home, there is now an opportunity to photograph baby with props that you own that reflect your personality. Every time Jodie goes to another client home, she gets to take note of her clients' personal decor and personal style and can create beautiful images that reflect this. Why have newborn photographs that are exactly like everyone else? You are an individual and so is your baby, embrace your internal creative expression. New ideas and personal requests are always welcome!
Please note: The above image is a PhotoShop composite. Baby safety is a top priority. Experienced professional photographers know how to achieve these images with use of special retouching and editing techniques. Babies should never be left alone anywhere and on any prop.
Siblings and Newborn Photography
Every parent deserves to have great images of their baby with an older sibling. Jodie is very careful with her interaction with older siblings that are still young as she wants to make sure that they are comfortable with their new baby sibling but also, she has already started evaluating how she is going to accomplish a great shot or your children from her first introduction to your family. Kids will be kids and they are all different. She will find a way to get images of your children together without frustration. She uses her retouching and PhotoShop "magic" when needed. She is a mother herself who has experienced the struggles of that perfect together shot. Having the session at your home takes the frustration out of corralling your little ones in a studio space. Older siblings may enjoy their day as usual and may be called over to the shooting area as needed.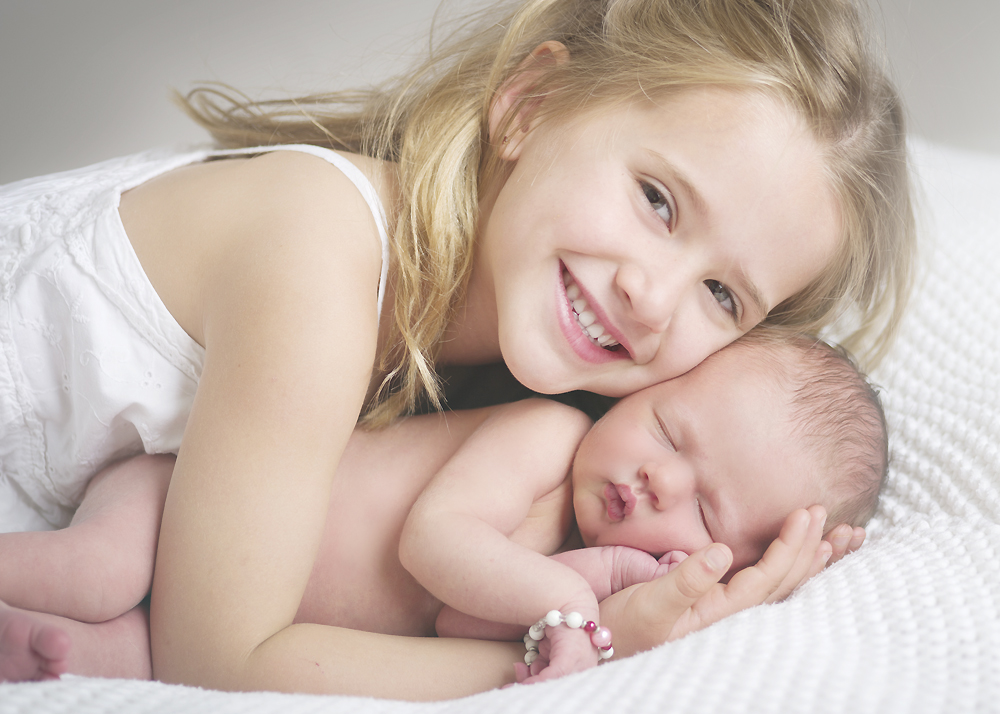 A little note – Pets are welcome! Jodie is an animal person as you can see on her personal photography blog. Once in a while with correct supervision, a pet can be right with the baby but other times, Jodie will once again use her retouching magic to keep baby safe.